The rules
The following rules are effective immediately and must be observed (without exception):
Justified temporary bans will not be removed! If you have any doubts about the legality of your ban, clarify this with the admin who imposed the ban or, if necessary, write a complaint.

An unbanning request may only be made in the event of a permanent ban.

An unbanning request may only be made 3 months after the ban was imposed.

Only the banned player himself may write an unbanning request (Exception: admins who receive an unbanning request by email).

The forum nick must match the name in the game.

If the template below is not followed exactly, the request will be rejected.

Only the banned player and the admin team are allowed to post unless someone is asked to post.

In the event that you are banned on several instances (forum, ingame, teamspeak) with different offenses, a separate, individual unbanning request must be written for each ban.

A debriefing takes place 1-2 times a month. The unbanning requests are professionally processed by the steering committee, which consists of administrators from admin level 3 (administrator) and above.
The unbanning process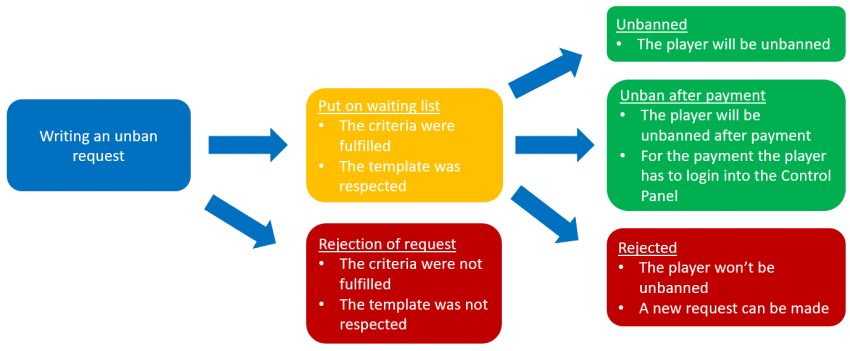 The template
The following template must be followed. Additional formatting (colors, graphics, ...) is not permitted.
Where do you want to be unbanned? [ ] In-Game [ ] TeamSpeak³ [ ] forum
Name of the banned account: example name
Your computer's serial* (only required for in-game unbanning): ABCDEFG12345
Name of the admin who imposed the ban: [Vio]Admin
Ban reason (text when connecting): Multiaccount
Time of ban: February 2021
What exactly did you do, what led to your ban and what can you do better to avoid this in the future?
The text is given here.
Was the ban a lesson to you?
The text is given here.
Why should we unban you again?
The text is given here.
___________________________________________________________
* = to determine the serial, you can open the console with F8 and enter "serial" there
For the sake of clarity, the template has been filled with sample data.
The post was edited 1 time, last by [Vio]fb789 ().